---
Monday, July 8: Today started out with some beautiful, easy riding. We made good time and the scenery was beautiful. We were rolling along looking for some place to get breakfast. Unfortunately we never did find anything.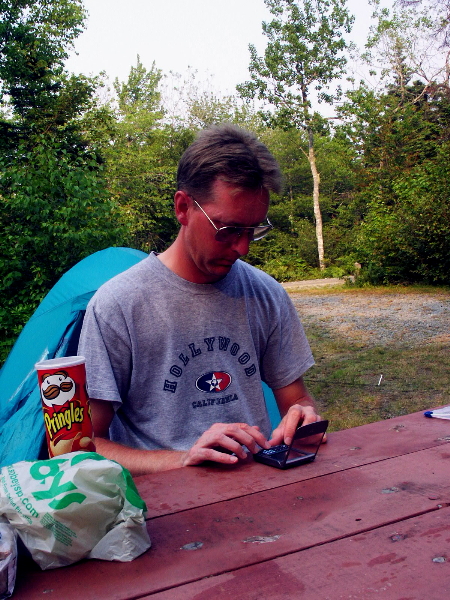 After riding about 50 kilometers we finally found a grocery store and stocked up on food for the day. While we were sitting in the grass on the side of the road eating our lunch, a couple passed us on bikes. He was pulling a B.O.B. trailer loaded with gear, and she was pulling a child trailer with a toddler aboard.
We managed a fairly early day ending at Thomas H. Radall Provincial Park with 99 kilometers on the odometer. We walked down to the beach, which was stunningly beautiful, and even took a quick dip before heading back to our campsite and taking care of our daily chores. As we were finishing up the first course of our dinner one of the park workers pulled up in a pickup truck with a bicycle in the back. The woman who owned the bike got out of the truck, and a man on another bike pulled up as they were lifting the woman's bike out of the back of the truck. The woman had flatted while riding the long gravel road into the park. They were not carrying any spare tubes, and the glue in their one patch kit had dried up. We gave them a tube of glue and they had soon managed to patch their tube and were off to their own campsite.
The black flies were quite vicious and drove us into the tent early. The mosquitoes soon joined them and for a time were so thick that the sound of them flying into the fabric of the tent sounded like rain.
---