---
Day 16: Monday, June 19 - Loch Lochy to Carbisdale Castle
I'm told there was a wild thunder and lightning storm last night. I heard nothing. If I can sleep through Charles' snoring, a mere thunderstorm certainly isn't going to wake me up. :-)
Yet again, we started the day with overcast and lots of hanging mist. Coming into Fort Augustus about ten miles into the day, we pulled into a very elegant hotel and asked if they were serving breakfast. They set up a table in the dining room just for us, and we had a great breakfast while we chatted with the server and the owner's young daughter.
Much of the scenery we passed through today reminded me of Vermont for some reason. The last 20 or 30 miles into the hostel were into a headwind, which slowed us down quite a bit. Finally, on the lane leading to the castle we had a very unpleasant encounter with a truck and horse trailer that ran two of us off the road and was blowing his horn at me when I finally just stopped in the middle of the road and we all exchanged a few words.
The evening got better when we arrived here at this fairly modern (early 1900's) and very impressive castle.
Two more days to John o'Groats.
Allen & The Beast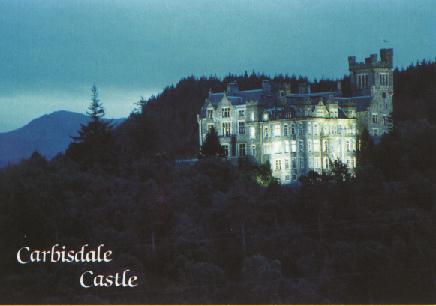 ---