---
Day 18: Wednesday, June 21 - Tongue to John o'Groats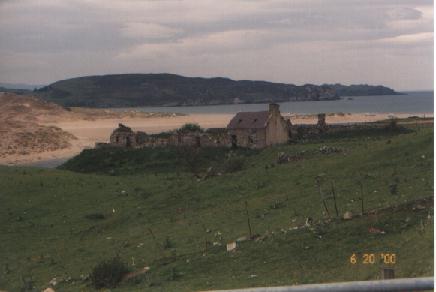 Wow! An elemental day. Both physically and emotionally.
Tongue is situated at the top of Scotland, towards the west. We were headed due east towards John o'Groats. At the same time, the wind was ripping off of the North Sea, tearing across the top of Scotland, and slamming into our faces. The landscape here is barren, and there is nothing to stop the wind. Cycling was hard work. Brutally hard. At the same time, all of these elements; the wind, the scudding clouds, and eventually the rain, were exhilarating. Power. Energy. I just love it. By the time we fought our way to the finish at John o'Groats, I had pretty much emptied the energy account, and was about to start bouncing checks.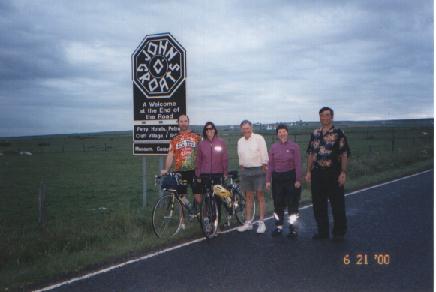 On the emotional side; well, what can one say? This was the culmination of the ride started 18 days ago. Nearly 1200 miles of cycling. Steep. Flat. Hot. Cold. Hard. Easy. Wet. Dry. Incredibly diverse terrain. Wonderful people with the most delightful ways of speaking. Incredible food. And all shared with a great group of friends.
A fitting ending to a wonderful journey.
Allen & The Beast
P.S. I'm aware of a number of errors in some of the reports I've sent out. Never fear. I'll go through and correct these when I compile them and post them to my web site at a later date. If you happened to notice any of these errors, please let me know. It might be one I've missed.
---