---
Saturday, June 29: We were off early this morning. After cycling through what there is of East Machias, we turned off onto Rt 191. Finally, we found what we had been looking for when we decided to cycle the coast of Maine. We cycled down a beautiful road that went through forest and periodically broke out onto the coastline. Again we had to cycle too long to get breakfast. After about 20 miles we came into the town of Cutler.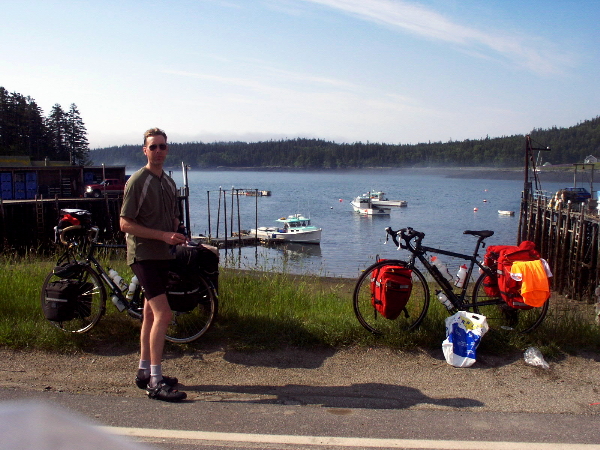 It was exceptionally beautiful with the fog rolling in and out along the water and the lobster boats tethered in the bay. We didn't see any store in town, so we sat on the dock and ate the last of our emergency rations, apple MRE's. Back on the bikes we rounded a corner and climbed a short hill to discover the local store and restaurant.
The proprietor was just finishing up cooking breakfast for the only other patron in the place as we walked in. He told us to help ourselves to coffee. Once he was done with the other customer he got around to us. As he worked on our order he also served the occasional customer who came in for cigarettes. He worked at a leisurely pace, but we were happy to sit and enjoy the conversation with him as our breakfast slowly came together.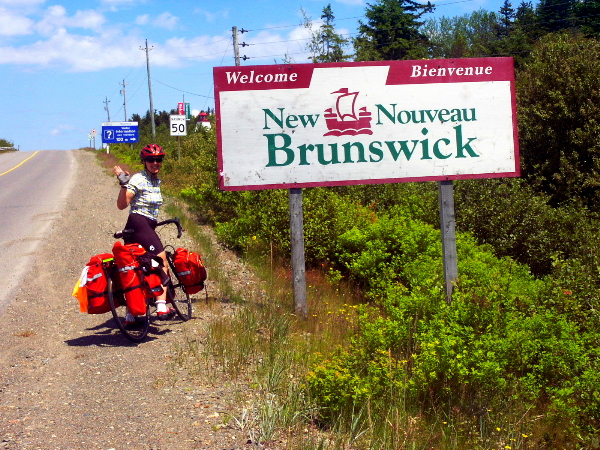 Back on the road, we continued north to Lubec where we stopped at the IGA to stock up on supplies. We then turned east and headed for the FDR International Bridge to Campobello Island. When we stopped at the checkpoint in Canada we were asked for identification; a first in the several times I've crossed into Canada. After a stop at the Visitor Information Center, we headed first for the Herring Cove Provincial Park to make sure we could get a campsite.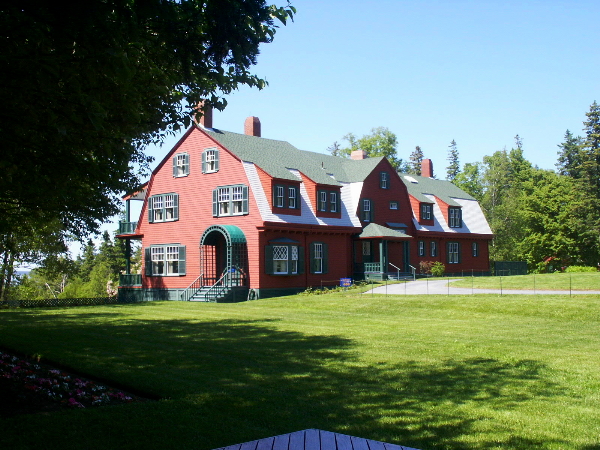 After that we headed back out to visit the Roosevelt Cottage. On the way back to the campground we stopped at the Co-Op for a couple of cold beers to accompany our dinner. This was a 45-mile day that gave us a bit of a rest after two hard days of cycling, and an opportunity to spend time playing tourist. We ended the day with a walk down to the beach to enjoy the last sunset.
---