---
Wednesday, July 10: It rained hard all last night. It made us feel snug and secure to be comfortably ensconced in our motel room. When we woke up the rain had stopped and it was clearing. We rode back to the center of Shelburne to get breakfast and also to get some cash from the ATM.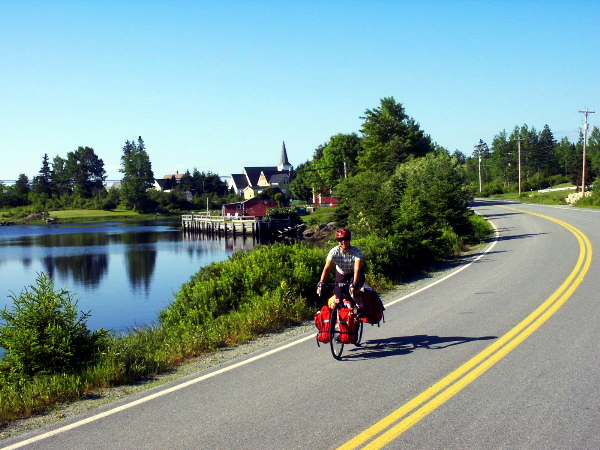 By the time we left town the sun was out and it was a beautiful day. We followed the coast as it jutted in and out. Sometimes we were headed south, sometimes west, and sometimes north. The day had started with the wind out of the south, but during the day it shifted around towards the north. This was absolutely unbelievable to me. The entire time we traveled up the Annapolis Valley the wind had been in our faces. When we crossed over to Halifax and started down the south coast the wind had shifted around so that it was still in our faces. Now that we were approaching the southern tip of Nova Scotia and would tomorrow be turning north for the final leg into Yarmouth, the wind had again shifted. At any rate, the shifting wind gave us more tail winds than head winds for today. We let tomorrow worry about itself and enjoyed our first day of relatively easy cycling for the trip.
By early afternoon we were in Barrington where we stopped at the Visitor Information Center to ask about lodging in the area. The only campground in the area we had passed this morning, too early to stop. There were no accommodations in Barrington, but there was a pub, restaurant, and motel called The Old Schoolhouse down the road in Barrington Passage. By mid-afternoon we were there after our easiest and perhaps most pleasant day's ride of the trip. We have plenty of time to get to Yarmouth. In fact, it looks like we will be there a day early, so we only did about 80 kilometers today.
---