T@CO Utah -- Day 3
Zion National Park to Pipe Springs National Monument
September 15
We were up fairly early on Tuesday and on our way right after breakfast. The first part of the trip was a nice down hill run as we dropped out of the mouth of Zion Canyon. Those miles we had gained so laboriously on Sunday just melted away as we cruised at 20 mph. While Rick and I were at the bike shop on Monday we had asked the owner about a couple of options on the map that appeared to offer a shortcut and would allow us to avoid backtracking all the way to Hurricane.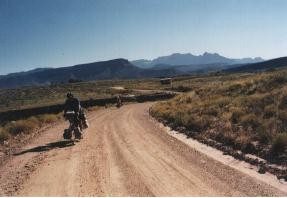 He advised against my first choice, thinking the road in question might have suffered badly in the flooding of the previous week. He did offer up lukewarm support for my second choice, so my mind was made up. "About 1/4 mile past the tacky tourist trap", we turned off of Rt. 9 onto a dirt road that would, in 6 short but glorious miles, take us south to intersect Rt. 58.
I'm not sure how the others felt about this little detour. For myself, I found the desert to be awesome. It wasn't at all what I had expected to find before heading out west. Shortly after returning home, I wrote the following to a friend of mine about this day's ride: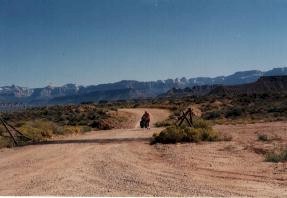 What I remember most and best was the desert as we headed southeast into the Piute Indian Reservation down in Arizona. It was beautiful. Stark. Simple. And when you look away from the ugly, disturbed strip along the road edge, so very gentle. I think I expected the desert to be harsh and unwelcoming, but that's not what it looked like to me. Of course, I realize that there are many different types of desert environments, and I don't know a thing about what I was looking at and experiencing, but it was so beautiful. I was floored. The desert is to landscapes what Gregorian Chant is to music.
Eventually, we were spit out onto Rt. 58, which we would follow southeast into Arizona and to Pipe Springs National Monument. Although it looks like a nice gentle downhill run in the photo below, this is very deceptive. We were actually climbing most of the day as we made our slow, hot, but oh-so-lovely way south as the Vermillion Cliffs rose up on our left. I regret not getting a picture of the four of us as we tried to share the meager shade offered by a road-sign.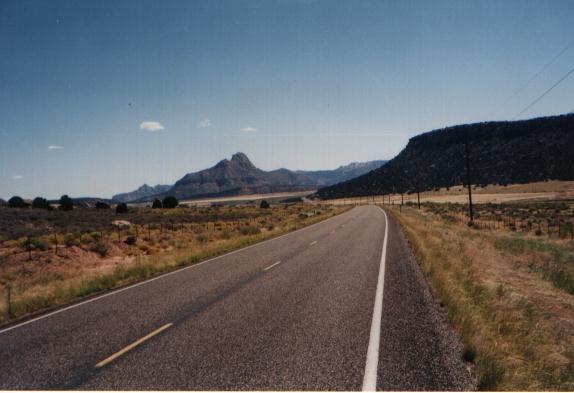 Late in the afternoon, a few short miles before our destination, the unrelenting climb finally ended. Below you can see Rick as he is about to drop over the rim and coast down onto the plain below. What you can't see is the big grin of contented relief on his face.
We camped that night at a small campground operated by the Piute's on their Reservation. Four cyclists, three tents, hot showers, and an incredible view of the night sky. All for the bargain price of $3. Do cyclists know how to live, or what?!
---