Southwest Utah -- September 1998
Benedicto: May your trails be crooked, winding, lonesome, dangerous, leading to the most amazing view. May your mountains rise into and above the clouds. May your rivers flow without end, meandering through pastoral valleys tinkling with bells, past temples and castles and poets towers into a dark primeval forest where tigers belch and monkeys howl, through miasmal and mysterious swamps and down into a desert of red rock, blue mesas, domes and pinnacles and grottos of endless stone, and down again into a deep vast ancient unknown chasm where bars of sunlight blaze on profiled cliffs, where deer walk across the white sand beaches, where storms come and go as lightning clangs upon the high crags, where something strange and more beautiful and more full of wonder than your deepest dreams waits for you --- beyond that next turning of the canyon walls. -- Edward Abbey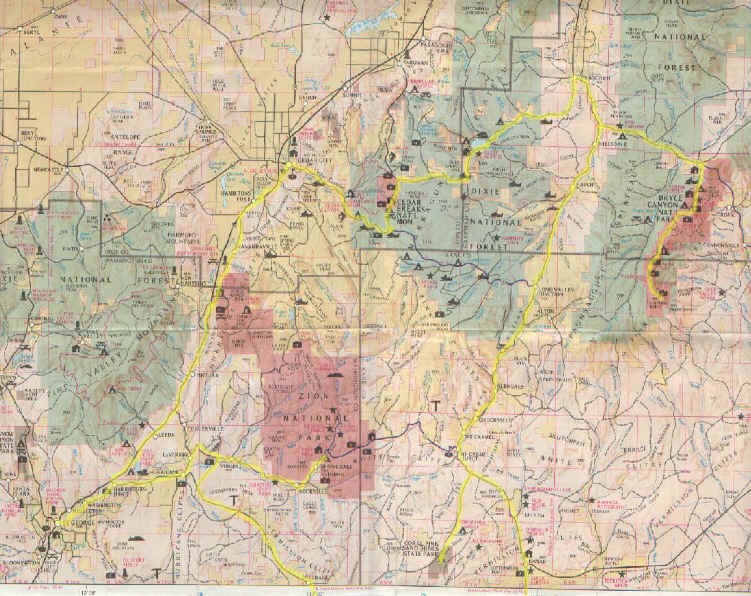 To Navigate:

Click on the route above; highlighted in yellow OR
Select a link below:

Way back during the early months of 1998, while I was spending my days chained to a computer terminal deep in the bowels of the military-industrial complex, I kept a grip on my sanity by day-dreaming about bicycle-touring adventures to come. While the cold, wet, dark, and dismal days of a southern New England winter dragged on, I spent time one evening browsing through a year-old catalog of cycling trips offered by Adventure Cycling Association. One of them was titled "Southwest Utah Trek". A twelve day self-supported tour through the wonders of southwestern Utah. This sounded like just the ticket. My big trip for the year was set. Now all I had to do was sit back and wait for the 1998 catalog to arrive in my mailbox. I would send in my deposit and when fall finally rolled around I'd be on my way.

Alas, when the catalog arrived there was no Trek to Utah for 1998. I was bemoaning this turn of events on the Bicycle Touring mailing list hosted by cycling.org. In response, the following email message appeared in my inbox:

Well Allen, Then let's do it ourselves. I was also shocked when I got the tour catalog. We know enough to do it ourselves let's just get the maps and do it.

I was hoping to do that trip this year myself.

Rick

And from this seed was our Southwest Utah adventure born!
---