Vermont 2004
I've been unemployed this summer, so have been conducting a job search and spending time with my daughter. Come mid-August, with my daughter heading off to summer camp, I realized that I had no meetings scheduled for the coming week. My fiancée, Jodi, had no jobs scheduled either. That being the case, Jodi and I did a quick (too quick, as I forgot a few things) job of packing our panniers, loaded them into the car, put on the bike rack, hung the bikes, and headed north to Vermont.

We had no plan on where we would leave the car. We just took a quick look at the Vermont map and said "Stowe". While driving we revised that, thinking that Stowe, being a very popular tourist destination, would be pricier than other towns. We stopped in Montpelier and checked at a couple of motels, only to be told that everything for miles around was full. The desk clerk in one of the motels recommended a state park in the area, so after having some dinner we headed to Little River State Park in Waterbury.

We got to the park around 9:30. Check-In closed at 8:00, so we found an empty site, set up the tent, and went to bed around 10:00. The next morning we went to the check-in, paid for last night's campsite, and got permission to leave the car parked in their overflow field for a week.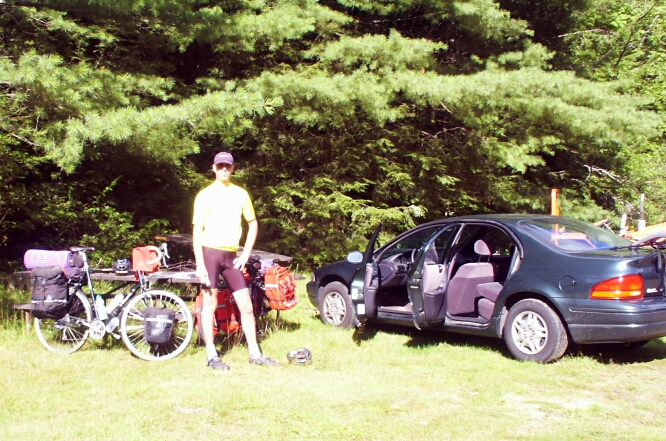 With the logistics now taken care of, we decided we would head north, with the eventual goal of spending a few days in the Northeast Kingdom. We headed down the road and picked up Route 100 north, with a second breakfast in Stowe our first goal. Stowe was just as expected, crawling with weekend tourists. We stopped at the chamber of commerce to ask for a recommendation for a diner to get breakfast. They recommended one a couple miles west on Route 108, so we headed that way. After a good breakfast sitting at an outside table, we decided we might as well continue on 108 and start our vacation off right by climbing Smuggler's Notch. Smuggler's Notch is the notch between Mount Mansfield and Spruce Peak. Route 108 is an extremely steep, narrow, winding road as it nears the top of the Notch. In fact, although it is a numbered state route, the top is closed and unmaintained during the winter months. We managed to ride every inch of the climb except for the last inside switchback. The inside of a switchback is much steeper than the outside. The inside of this switchback was so steep that the center of gravity of our bikes shifted back far enough that we couldn't steer; i.e., the front wheel got too 'light' to steer. So, we walked this one switchback. Whew! What a way to start a tour!

After coasting down the other side, we headed south down local roads through Paradise Valley, heading towards Underhill State Park. The valley was beautiful; woods and farms and cows. Unfortunately, we were heading up the valley, and we climbed for most of the ten miles we spent in the valley. It wasn't very steep or anything, but after climbing the Notch we were pretty tired. Still, we eventually made it to the turn off for Underhill State Park. We knew from the map that the park was a few miles down an unpaved road. What the map didn't tell us is that those few miles were straight up the back side of Mount Mansfield. The road was very steep and full of loose gravel. I was tired. Jodi was bonking. We had to push our bikes most of the three uphill miles to the park entrance. Jodi was almost reduced to tears a couple times. I fed her candy in the hope that she'd get enough energy from the sugar to make it to the top, and she persevered running on sheer will-power.

We made it to the park just as a thunderstorm came through, and rented a lean-to for the night. Underhill is a small park, mostly used as a base camp for people hiking the many trails on Mount Mansfield. It doesn't have showers, so we heated water on the stove and took water bottle showers. It rained off and on all night, but was bright and sunny in the morning.

On Monday we had an easy day as we headed west through gently rolling terrain towards Lake Champlain and South Hero island. It was a gorgeous day, and the gentle riding was a nice counterpoint to the physical challenge that Sunday had been. We did some grocery shopping at a store in Chimney Corner before heading out to the island, then we stopped at a farm stand just before the campground and bought some fresh local sweet corn. We arrived at Grand Isle State Park in early afternoon and got a sunny, grassy site with a couple of nice shade trees to pitch the tent under. After doing the daily chores of laundry and showers, we spread out the sleeping pads on the grass and kicked back with our books for a while, then took a walk down to the beach to admire the view across the lake. Our first course for dinner was the corn, which was so fresh and sweet we didn't even mind that we had no butter to spread on it
.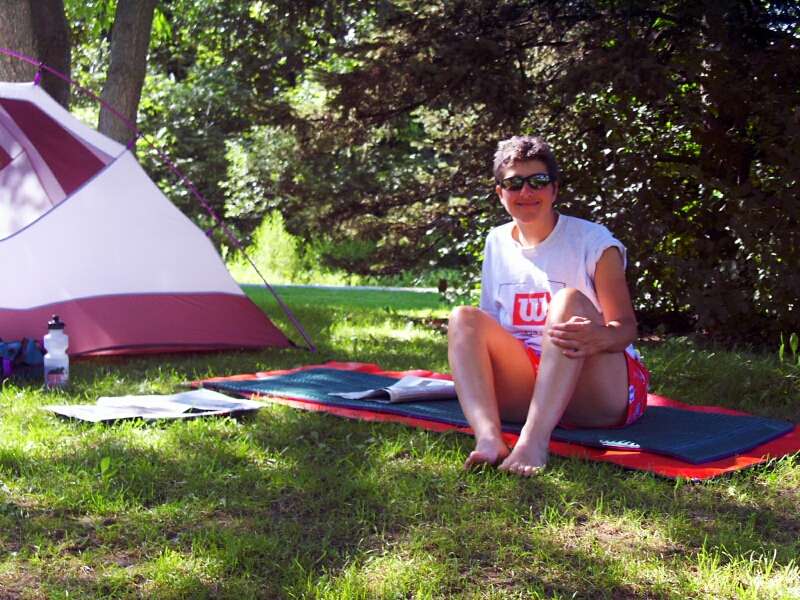 Tuesday was another nice day. We continued north along the length of South Hero and North Hero Islands. The wind was out of the south so we cruised along with a strong tailwind. About 9 or 10 miles out I was stopped by the hiss of a flat rear tire. I put in a new tube and pumped it up, only to notice that the tube was bulging through a cut in the tire. Fortunately, I always carry a spare tire when touring, so I put the spare tire on as well as the new tube. All of this fiddling with tubes and tires cost us a good half hour, but we got to chat with the sweep rider of a Vermont Bicycle Tours group who stopped to see if we
needed any help.

Even with the mechanical delay, we covered the first 35 miles in about three hours thanks to the tailwind. We stopped for our second breakfast in Swanton, the first town we went through once we were back on the mainland. Actually, I think we had lunch here, as they had just stopped serving breakfast. After stopping at a Grand Union and buying some tomatoes, green pepper, and pasta for tonight's dinner, we headed northeast along some quiet, rolling country roads until we were as far north as we could get without crossing into Canada. We had a wonderful afternoon heading towards Lake Carmi. We finished off with a very challenging final three miles heading south along the eastern shore of the lake straight into a stiff wind. We crawled these final three miles at around 6 mph until we finally reached the entrance to Lake Carmi State Park. We rented a lean-to here as well, since the forecast called
for showers and thunderstorms again.

For Wednesday, we had another challenging day. We headed east, back across the spine of the Green Mountains. We stopped in Enosburg Falls for second breakfast. This tuned out to be the best diner of the trip. Just about everyone in town was at the diner this morning, including a very old gentleman named Burt in the booth next to us, whom everybody stopped to talk to. I had the best plate of hash and eggs of my life here. Thus fortified nutritionally, we headed east through East Berkshire and Montgomery Center, where we picked up VT 58 east over Hazen's Notch. VT 58 is the only numbered state route in Vermont that still hasn't been paved. It crosses Hazen's Notch, which is part of the route of the Bayley-Hazen Military Road. This notch isn't as steep as Smuggler's Notch, but being an unpaved road it is just as challenging on a bicycle. At the top of the notch we met some through-hikers on the Long Trail and their friend who was re-supplying them by car. We were almost out of stove fuel, and their supply guy very kindly filled our bottle and refused payment for the white gas.

Coasting down the east side of the Notch was the reward for all the climbing, although it had recently been graded and therefore there was quite a bit of loose gravel around, requiring a lot of braking heading down. At the top of the long but gentle hump between Lowell and Irasburg, we stopped at a little snack/gift shop and chatted for a long time with the couple that run the place while we shared an orange soda. They had spectacular views all around, and they showed us pictures taken in all the different seasons. Finally we continued on until we reached Orleans in search of a place to stay. There aren't any state campgrounds around here, and the one private campground we passed was set up to cater to RV's, not tent campers. As we passed the I-91 interchanger we spotted a sign for a motel a few miles south along Rt. 5, so we headed that way. We got the last room (actually a two-bedroom cabin) in the motel. Everything around here was full because of the huge Phish concert coming up in Coventry, just a few miles north. We jumped in the pool to cool off, and spent an hour or so vegetating in the sun before doing our daily chores. The owner of the motel even gave us a ride a few miles up the road to get pizza and beer to enjoy with our night of (relatively) luxury accommodations.

On Thursday we headed south through mile after mile of beautiful rolling country. The roads were lightly trafficked. It was gorgeous. We were hampered by constant headwinds, which made slow, tough going. But that was a fair price to pay for the privilege of being there doing what we love. We stopped in Cabot and had an amazingly good lunch at a small inn. I never did see the name of the inn. The sign outside just said "INN". We stopped at the Cabot Creamery. After walking inside and seeing that it was a typical tourist trap we turned around and left after about 30 seconds. We finished with 5 miles of steady climbing in the rain to get to New Discovery State Park. It seems like almost every park we stayed at was at the top of a hill!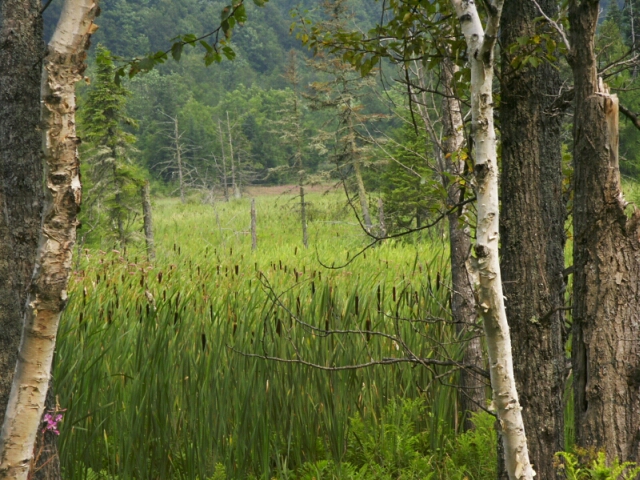 It rained all night, and was still raining when we left the park Friday morning. The forecast called for the rain to intensify, so we decided we would only ride to Montpelier and try to get a motel room. The only reasonable route to get where we wanted to go was to ride US 2. US 2 is a major east-west route and carries lots of trucks. It has little or no shoulder, so it was a nasty ride in the rain. We were sprayed by every passing vehicle and by the time we got to where we were going, our bikes, our gear, and ourselves were all covered with grit from head to toe. We got a nice big room at The Vermonter Motel on US 302, and hibernated there for the rest of the day.

The rain cleared out Friday night, and Saturday dawned bright, crisp, and clear. We decided to end our vacation today, since more heavy rain from the the remnants of the hurricane that devastated Florida was due Saturday night and all day Sunday. We were only about 15 miles from where our car was parked, but managed to turn it into a 45-mile day. First, we went into downtown Montpelier to look around. Montpelier is a really nice town. I think I could live there. We spent some time at the farmer's market. We took pictures of each other in front of the state capitol building. Finally, we headed south to Northfield Falls, taking the dirt road west over the hill to Moretown, then heading back north to the State Park. It was a gorgeous day, and a gorgeous ride. We stopped at a little store in Northfield Falls to buy some snacks and to confirm we had the right road before starting up the dirt road. It passed through a series of four covered bridges, then climbed gently with a few short steep pitches past the most lovely homes scattered along the banks of the creek. Once we crested the hill, the road descended very steeply to Moretown. We definitely had climbed it in the right direction. It would have been torture climbing it the other way.


We were back at Little River State Park around 2:00, and after cleaning up a bit loaded everything back into and onto the car and headed back to Montpelier to have a celebratory lunch and a beer, then headed for home.

Our shortest riding day was about 25 miles heading into Montpelier in the rain on Friday. Our longest was 50 something miles. We probably averaged around 45 miles. That's a pretty low average, but it's a very hilly state and neither of us had ridden with full camping gear since two years ago. So I think we did well. We never planned more than a day ahead. Every evening we would look at the map and decide where we would go the next day. We never did make it to the Northeast Kingdom, as our serendipitous decision to head up Rt. 108 and over Smuggler's Notch the first day got us heading in the opposite direction.

So, that's over now. I'm back to the business of job hunting. My daughter Anju will be back home from camp next weekend. And a week after that school starts on September 1. I guess summer is over.