T@CO Utah -- Day 10
Panguitch Lake to Cedar City
September 22
It was cold when we woke up on Tuesday morning. The tents were covered with frost. Hot coffee tasted great, even if it was just instant! We straggled out of the campground one at a time, with yours truly getting a jump on the others this morning. I had started out dressed a bit too heavily for the conditions. Sure it was still cold out, but as soon as I had turned out of the campground entrance it was back into the granny gear and grind, grind, grind uphill. Warm work!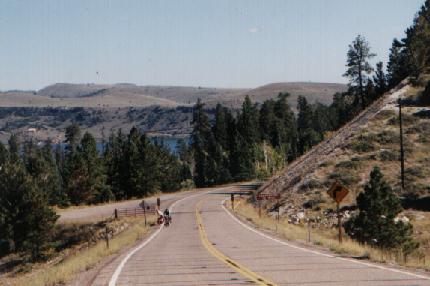 It was a good workout climbing up to Panguitch Lake. Cool. Quiet. Peaceful. There were cattle milling about in the middle of the road as I rounded a corner, but by now I had discovered that zipping and unzipping my handlebar bag got their attention, and sent them scattering. Something about the metallic sound I guess.
When I got to the lake, I spotted a small fisherman's lodge on the bank overlooking the lake. The sign out front advertised breakfast, so of course I pulled in. Well, this turned out to be one of the highlights of the whole trip. This place was great! There was a nice fire in the fireplace just inside the door. Whoever cooks here obviously takes some pride in their work. While the eggs and home fries gracing my plate were good, the pancakes Rich ordered were phenomenal. A big stack of pancakes, liberally covered with strawberries and topped by a huge scoop of whipped cream. A cyclist's dream breakfast. And somehow the folks here don't seem to know that prices have gone up in the last 20 years or so. (Am I the only cyclist that obsesses about food?)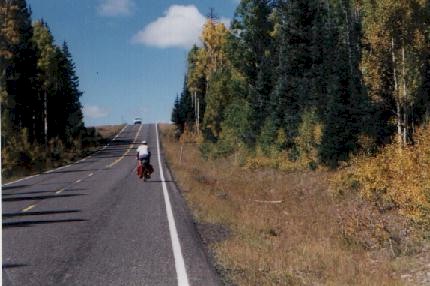 All good things must end, and thus we were back on the road and STILL climbing. Somehow since yesterday morning we had managed to travel from summer to fall. Here the ferns were already dying back, and the aspen trees were turning an exquisite golden color. As you can see in the photo to the left, Rich was back in his lead climbing position, making it all look so effortless.
We climbed for the rest of the morning. Even though we had spent three nights at Bryce Canyon, at over 8000 feet, the elevation here was definitely getting to me. By the time we topped out at Cedar Breaks, we were up to 10,500 feet. That's only about 10,400 feet higher than where I do most of my riding!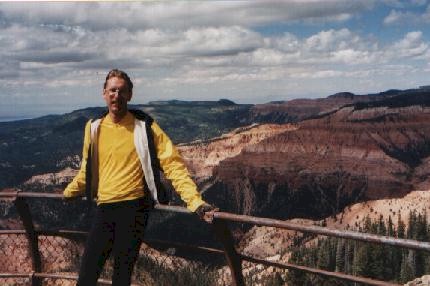 One nice moment of the day came when we were chatting with a couple of tourists at Cedar Breaks. The woman asked "You didn't RIDE up here, did you?"
After spending an hour or so checking out the various viewpoints, we prepared to head down through Cedar Canyon. The road here drops almost 5000' in a scant 18 miles. It's a beautiful ride, and I regret now not stopping long enough along the way to get some pictures. At the time I was having too much fun flying through the turns.
While it had taken us two days to climb up to Cedar Breaks, it only took about 35 minutes to get back down. The temperature had been in the fifties when we launched ourselves over the lip. Down in Cedar City it was well into the seventies. While waiting for Rich to make it down behind us, Rick and I sat on the lawn of the Temple and stripped off a layer or two of our warm clothing.
We stopped at a bike shop and got some info on camping in town, then headed out to the north end of Main Street and the KOA campground that is there. This was the first time I've ever camped right on the Main Street of a good sized city. It was certainly different!
---