I'm sitting outside our room at the Queensway Motel and a grotesquely fat guy wearing nothing but a bathing suit is sitting in front of his room 4 or 5 rooms down. From the cans on the table next to him I'd guess he's working on the second half of his twelve-pack, and he's talking on the phone rather loudly. "Two strippers! I had two strippers!" Then he says that he'l be home tomorrow and he's not sure what his ETA is.
So does that mean he was calling home? Who at home is he telling about these strippers? His wife? His kids? Well, that's what was occupying my mind over the last couple of minutes.
But enough of our fine friend, this is a blog about cycling and other fun adventures so let's get back to that. I woke up fairly early this morning and, itching to get on the road, I prompted Jodi to get up and get ready. In a few minutes we were down the street at the Tim Hortons for coffee and a breakfast sandwich.
Once fueled up we hit the Trans-Canada headed east. We were able to divert off the highway for a bit here and there, but the bulk of today's ride was riding the white line at the edge of speeding traffic. At one point we were passed by three semis in a row, less than a meter from our left elbows, as they went by at 100 kph. With the bow wave of wind they push in front of themselves and the suction behind as they pass, we got roughed up a good bit. If there had been a fourth truck I think I might have lost control.
In contrast, for the last 30k or so we got to turn off Rt 17 (and good riddance to you!) and follow the Lee Valley Road into Espanola. Lee Valley was quiet, moderately scenic, mostly paved, and lightly trafficked. A good way to end the day.
The clouds are rolling in as I type and there are supposed to be thunderstorms during the day tomorrow and a steady rain tomorrow night into Saturday morning, so we're going to take tomorrow off. We've been riding every day for 12 days straight, so a rest day is long overdue anyway.
From here we're turning south to head to Manitoulin Island and then the ferry to Tobermory. If the wind is from the north as predicted on Saturday, we should make good time.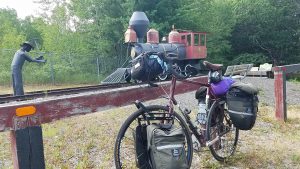 07_07_16.gpx